FDHS Archery Team Is On Target
Archery Team Does Not Miss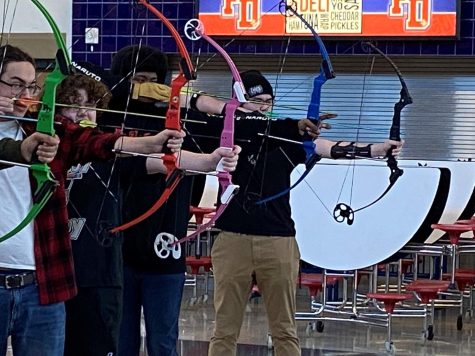 ​North Charleston, South Carolina  
The Fort Dorchester Archery team is run by Mrs. Parker. This is the first year that the school has had an archery team. She and her husband are coaching the team together. They take part in competitions every Saturday. The season runs from November through March.  
Mrs. Parker said, "I love coaching the archery team and I am so glad it is a part of the school now." There are 20 schools in the Charleston area that have an archery team. There are 24 students on the archery team, and there are several alternates.
The school's archers are a talented bunch who aim big. They have placed 2nd and 3rd place at local competitions, and 10th grader and archery team member, Sushil Senguttuvan Balamurugan pointed out that, "The team is doing great! It was fun going to tournaments on March 5th and 9th."
Coach Parkers wants her archers to remember that they can do archery in college and even apply for national scholarships for the sport. The archery team needs help raising $1,000 to help fix their bows. They are asking for donations since arrows are also a big equipment expense.
Over 130 students tried out the school's archery team. The field got narrowed down after the mandatory safety trainings. Mrs. Parker credits the popularity of archery locally to the widely-acclaimed Hunger Games books and movies which feature archery. Plus, she thinks that now that archery is an Olympic sports, students are more interested in it as well. 
The team is on target for finishing their season strong. At one point, they were even ranked 8th in the state, but are currently, 11th overall in the Palmetto State, which proves that they can hit the mark.