​Fort Softball Building Their Way To Success​
The Softball Program at FD is Building New Batting Cages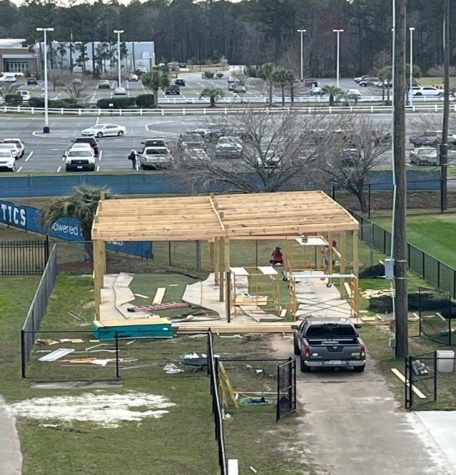 Summerville, South Carolina  
The softball program here at Fort Dorchester is on its way to new and improved batting cages. They began the process on February 9th of clearing out the old cages and are starting from the ground up. The goal behind the new cages is that they should help the athletes increase bat speed, improve pitch selection, help form strong muscle memory, and perfect the basics of proper hitting mechanics. Batting cages offer benefits for all levels of players including the Varsity and JV players. ​ The batting cages are used for hitting balls numerous times which improves eye-hand coordination.
Getting new and updated equipment is exciting for any team for a variety of reasons. Varsity senior Madison Boyd was asked: What does the team get out of getting the new batting cages? She said, "It'll benefit us because now we don't have to practice inside because it'll have a roof and everything inside of it. We can get a lot more work done hitting wise." Varsity Junior Sarah Galvan said she was looking forward to the new batting cages too. She exclaimed, "I am most excited to not have to do batting rotations on the soccer field, and the fact that the cages are going to be covered and have lights inside of them along with the walls getting padded. It has so many improvements from our old cages."
The Lady Patriots are filled with eagerness about getting the new batting cages, and so is Varsity head coach Lindsay Laprad. She was asked: What is the main reasoning for getting new batting cages? She noted, "We've been raising money for years to cover our batting cage because it will give us a practice place when its raining or the field is unplayable. It offers us another place to get better and improve our softball techniques and skills." The building of the new cages is a big hit and surely will be a part of the Lady Patriots' success for the 2022 season.